A ton of you over on Instagram have been asking how to care for your dance shoes. I know it's not easy when you're starting out, but there are a few really simple tricks to keeping your beautiful Burjus clean and safe from damage.
To help you out, we have a quick little guide for you today...

• Don't wear your suede sole dance shoes outside of the studio - concrete and cement surfaces will wear away the soles, and dirty club floors will cause stains​
• Always air your shoes out before putting them away.Leaving them sweaty causes bacteria to form which smells nasty
• When putting your shoes away, you can use the cute tote bag that your Burjus came in and store them somewhere dry out of direct sunlight. Job done!
• Buy two pairs of dance shoes and alternate them so you can give your shoes a break and they'll last longer
• Clean and deodorize the insides of your shoes regularly
• Clean your shoes differently depending on what they're made of - you may need to clean different parts of the shoe separately
• Leather, vegan leather and patent shoes can be spot cleaned with a damp cloth
• Satin shoes should be spot cleaned first with a clean dry cloth, and then use water and mild hand washing soap afterwards to blot out deeper stains.
Suede dance shoes need extra special care, especially when cleaning.
You'll need the following:
• Good quality eraser (or a pencil with an eraser on it)
• Special suede brush with long bristles
• Damp cloth
• White wine vinegar
1. Take the eraser and use it to gently rub out the stains on the suede. Go lightly so as not to ruin the material.
2. Brush the suede clean with your suede brush to restore the nap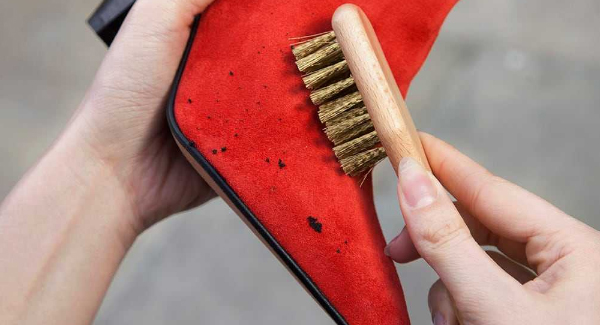 3. Get a damp cloth and put a little bit of vinegar onto it. Then spot clean the stains with it. Expect the vinegar smell to remain for a few days afterwards.
4. If any stains persist, you can steam them by holding the shoe over a pot of boiling water so that the steam rises onto the suede, which will soften and hydrate it.
Once this is done you can go over the stain with the suede brush.
I hope this helps you keep your Burjus in great condition!
Don't forget if you have any shoe specific questions for the team you can always tag us on Instagram - we absolutely love connecting with you guys over there.
Until next time!