"I'm very happy about the support. Saharra was very quick and friendly to me and I got a very good and quick service regarding my exchange of the shoes. I will recommend Burju to all my dancing friends. The shoes are very beautiful."
"Replied back with no delay and easy return."
"Very fast and convenient customer service and refund/exchange."
Does your Burju pair not fit the way you want it to?

Don't worry for a minute, you can return it (within 30 days after receiving, UNWORN, with original packaging, undamaged and as long as they are not special custom shoes. Find out what special custom shoes are here)! So if you're still just trying them out for fit and comfort, be sure to wear them on a smooth, clean sheet of paper! Please note that if the item has been worn, or received with scuff or markings, there will be a restocking fee of 40%.
Thongs, Panties and Fishnets are NOT returnable or exchangeable. Please be sure to select the correct size and shade.
Please make sure to include your invoice and monitor your returned package. When following up on your returns, please ensure that your package is already received by checking its tracking updates. If you do not return with an invoice, it will take longer.
FOR INTERNATIONAL CUSTOMERS, in order to ensure the most efficient, hassle free way to facilitate your request please DO NOT ship anything without emailing us at info@burjushoes.com. Please provide your order number / order email, and let us know what you will be returning or exchanging. Once we hear from you, we will let you know what to do next.
FOR U.S. CUSTOMERS, simply follow our fuss-free, no-questions asked 30 Day Returns process so you can return and/or exchange your existing pair for one that's perfect for you.

Starting an exchange or return has never been easier for you. Simply visit our Happy Returns & Exchange Portal through the link below:
https://burjushoes.happyreturns.com/
1. Enter your order number (found on your invoice) and your zip code, then click "Start Your Return."
2. Select items for return
A list of your order history then appears, with the order you are searching for at the top. Any items that are tagged as "non-returnable" or are past the return window are grayed out and can't be selected.
3. Choose the reason for returning
4. Choose the refund/exchange option:
Exchange the item for a different size, color, or variant. (Please note: If you need to exchange your item for a "Made to Order" style, the item won't be available in our inventory, so you need to choose the "Refund for a Store Credit" option so that you can place a new order after receiving the store credit in your Burju Account)
Receive a refund via an e-gift card/site credit, available after their items are returned.
Have the order refunded to their original form of payment. This will take 3-5 business days depending on their bank.
5. Proceed with the return
When you are finished adding all of their items, please click "Continue" to select a return method.
6. Choose how you'd like to return items
Depending on your return policy, the shopper may choose from the following return methods:
**By mail: Print your return label and bring it to the nearest post office.
**In-person at a Return Bar: the nearest return bar will be posted with the complete address. Or, you have the option to look for other Returns Bar by clicking on "See all Return Bar locations>>"
7. Preview your return
A preview of your return will be displayed. After verifying everything is correct, click "Submit."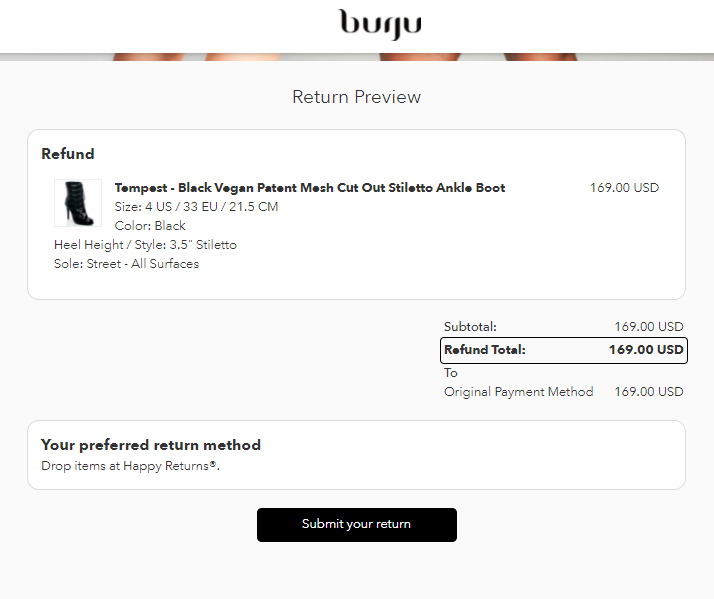 8. Next Steps
After submitting your return, a confirmation page will be displayed, along with instructions for next steps, and a link allowing you to change your shipping method. You will also receive an email with this information.
Shipping Costs:
International orders: Shipping Fees will be shouldered by you.
Local (US Customers):

First Exchange/Return for an order - free return shipping. And, the shipping fee of the new pair is also free if it's $150 and above.

Succeeding Returns - all shipping fees will be paid by customer.

Return shipping will be charged for "Return to Sender". And a new shipping fee will be charged as well to reship the order. If the order will be canceled, the shipping fee of sending the order to you and the return shipping fee will also be charged.
Please note that for special custom shoes, (special custom shoes are shoes that are not on the options provided on our website), we do not accept returns and exchanges- these are final sales. So before you order a special custom pair, make sure you know your exact size in that particular style you're eyeing and you've seen the colors that you want.
Be sure to check the item you are sending so that no other items will be included. For safety reasons, when we receive your package, we only take the shoes, all other items are put in the garbage (recyclable waste) bin. We are not responsible for any lost or incorrectly sent non Burju products to our warehouse.
NOTE: Shipping fees apply to worn shoes if you'll send them back. And, an additional charge will be applied if the shoes are found to be worn several times, dirty and no longer salable, and if we'll send them back to you. Request will be canceled if we do not receive your shoes in 30 days after filing. You may please contact us if you wish to proceed or if you have concerns.